The brand new Pinpoint Recruitment Northern Youth Enduro championship got off to a flying start on Sunday at the Tees Valley Complex hosted by Dirtbike Action around 75 youths from all corners of the British isles turned out for this brand new youth-only concept, and the sun was shining the kids were smiling.
8.o'clock until 11.15 all youth riders had open practice to familiarise themselves with the track and conditions, with the 1st race of the day starting at 11.30 with autos 65s 85sw going out for a 1.5 hour race with a smaller lap splitting for autos while 65s &85s covered a 10-minute mix terrain lap of Mx style sweeping hillsides, riverside single trail, woodland, and stubble.
With plenty of competition in all classes first, out of the traps on the am race was the packed out 85 Small Wheel class with bags of young promising talent in the lineup.
The first to the corner, and winning the Empire holeshot prize was North East based Jack Wall, who showed his MX skills and by leading from start to finish he has shown his transition to enduro has been a good one with his Enduro skills being there for all to see. There was absolutely no room for error though with Jacob Wilson travelling over from the Isle of Man hot on the leaders tail a young, showing he is a man that obviously travels well as it was another fantastic mature performance from this young lad also registering 11 laps and finishing under two minutes behind 1st. 3rd place also on 11 laps and just over two minutes from 2nd was Ollie Carne a young lad that will always be in contention in any race. There was a great lineup of young talent in this class with nearly 20 entries making an interesting one to keep an eye on.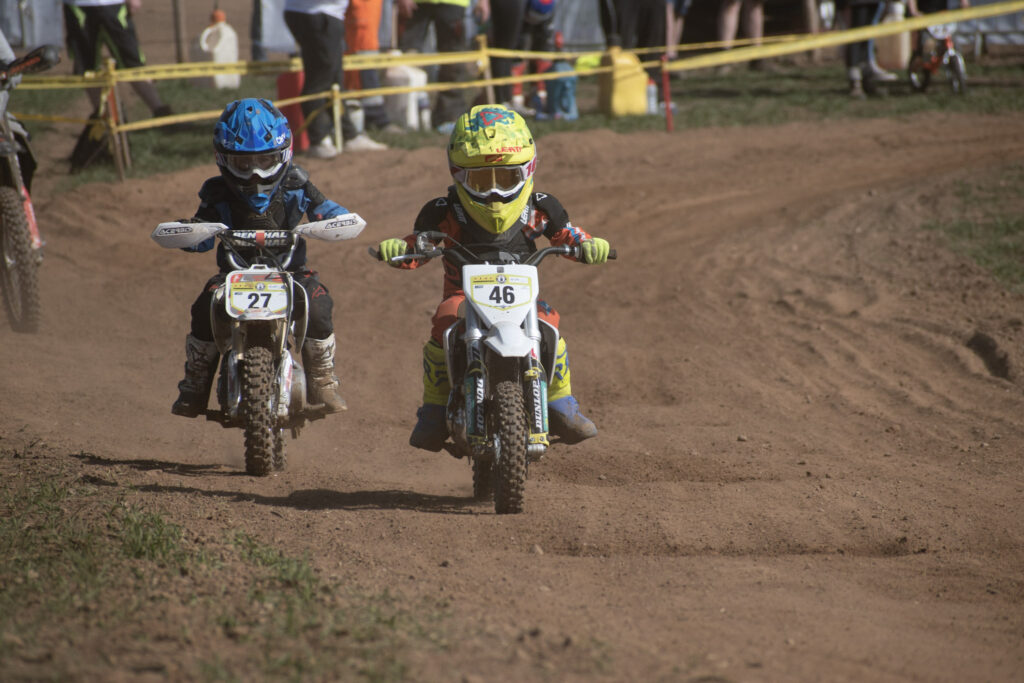 The second away was the 65 class and you have to pinch yourself when you see the quality that comes from the front runners of this class in such small bundles. The holeshot was a photo finish that even the photo adjudicators couldn't call so 2 prizes were awarded to Dexter Hind and Annabelle Bolt. Dexter then carried on with a point to prove from a previous visit to the venue which ended in disaster, to take the win and sneak in another lap over 2nd place Annabelle Bolt who managed to make it look effortless with lap times equal to any of her rivals, taking the runner up spot and showing that talent is not gender controlled. First timer to Enduro Tommy Hutchinson put in a magnificent performance on his 65 machine taking a break from his normal discipline of Mx. Tommy has probably never passed a tree on his bike before never mind having to jump a log and navigate a root or not stop riding for 1.5 hours. A big well done on a superb result with smiles all around from himself and his brother. We hope to see the Hutchinson brothers mixing it up in the future.
To round off the morning race the Auto class were off the line next, with another great lineup of these miniature superstars taking on a full 1.5 hour race in 17-18 degree heat with parents absolutely beaming with pride and fear at the same time from the sidelines. You have to smile when you see these kids giving it their all.
Travelling down from Scotland and only riding for 11 months, Aaron Wark showed his maturity to take the win on 22 laps, with local lad Harris Walker taking 2nd showing a real week on week improvement with his riding at such a young age covering a pretty much perfect 20 laps. Taking the last podium place was young Joey Jones in his first race since upgraded to his 2stroke Husqvarna 50. With only 30ish seconds between him and second place, it looks like the move from the faithful crf 50 was a great move.
Every one of these young riders deserved a mention for their efforts today there was a great mix of newcomers to the sport and they all performed amazingly.
Following on from race 1, race 2 saw the 85 Big Wheels, the 125/150 and the open cc classes take to the track.
The first away was the new Superteens. With low entries, this new class is yet to attract its potential audience in full, which is set up to allow teenagers who are bowing out of youth enduro due to its poor infrastructure. This class gives the young stars of enduro a chance to race against other young stars from around the country and the battle that followed proved exactly that this class is worth its place in the sport. So if you are a teenager wants to test your skills against others, drop into the party if you think you're fast enough.
Bobby Moyer another travelling Isle of Man rider took the holeshot and lead the race with local rider Sam Boyd hot on his tale with literally a second or two a lap between them. Sam hit troubles first when his baffle collapsed giving him a noticeable drop in power on his bike handing the advantage over to Bobby, who never let up all race to look like he was set to take the win, gaining more seconds on every lap until real disaster struck 4 corners before the checkered flag and Bobby ran out of fuel.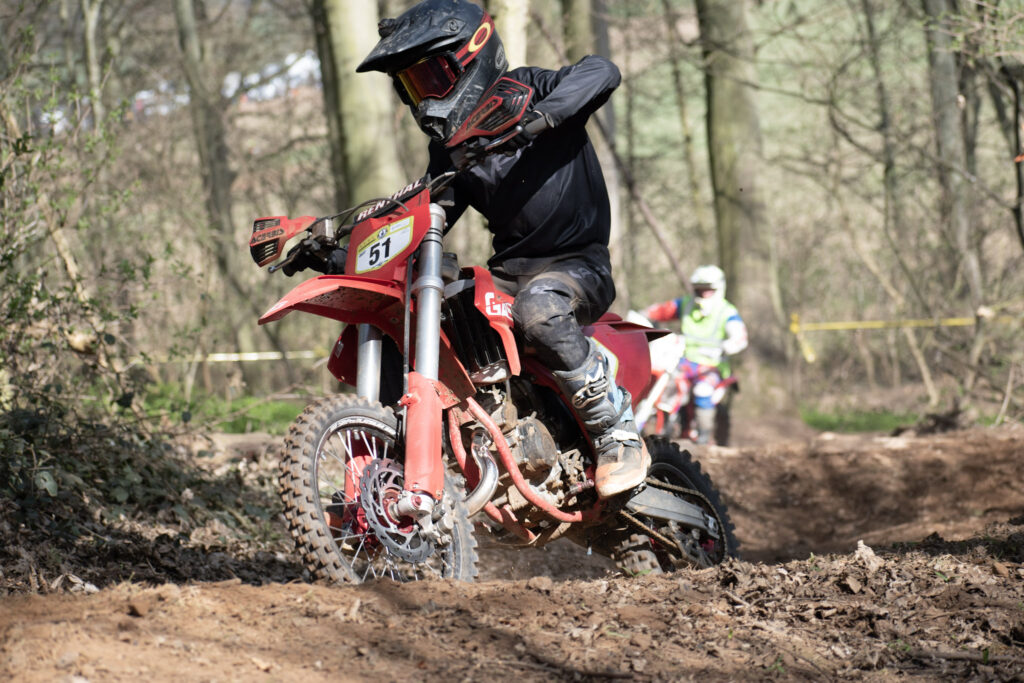 The fast dry terrain had these machines flat out for two hours and for all but an egg cup of fuel Bobby looked likely to take the win overall but it wasn't to be and Sam made up the lost seconds he was losing per lap and passed him for the win. A heartbreaking way to end the race but these two lads have got a good few battles in them before it's over, providing great entrainment for the neutral spectator. Josh lister took third place on the podium, a little bit off the pace of the two front runners but a great ride and an insight into what this class is capable of.
Next out the125/150 class with the Empire holeshot award going to raw mounted rider Lucas Travers shortly followed by local homegrown talent Riley Boyd, which was another battle where one mistake by either rider would prove costly as the lap times were on point from both riders finishing only 44seconds apart. Riley took the top spot after another brilliant battle for the spectators and riders. 3rd in this class  went to the travelling Scotsman Robbie Davidson with a great ride just slightly off the pace of the charging two.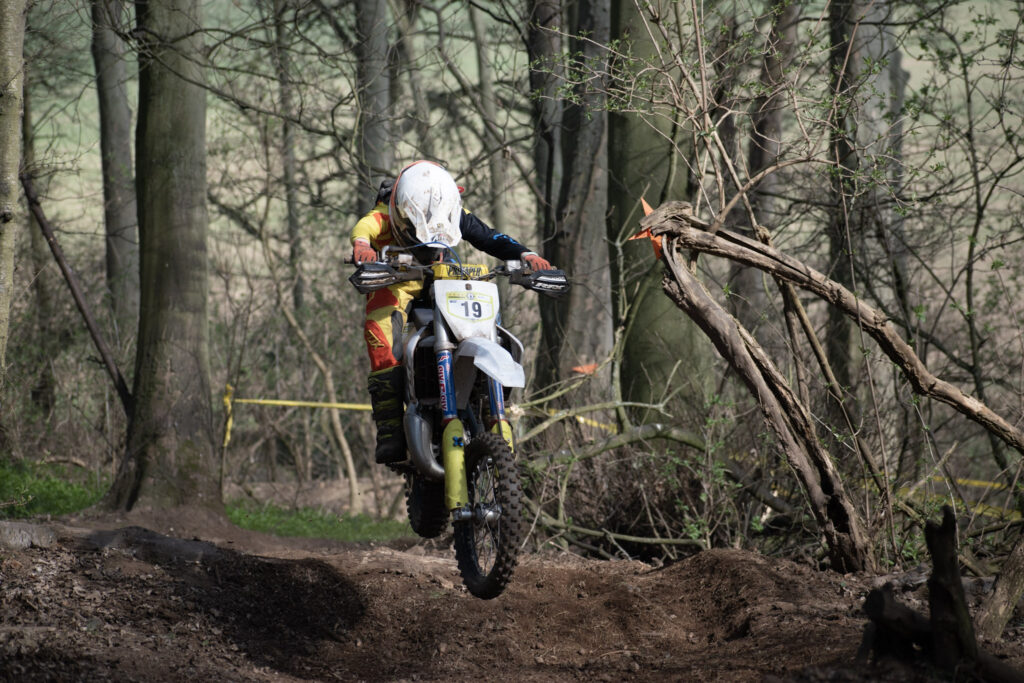 Last but certainly not least the young guns of the afternoon race the 85 Big Wheel. A two hour race was new concept to most of these riders, with a good few just moving up from Small Wheel 85. The Empire holeshot went to young prospect Jack Leonard Been chased down by Connor Watson and Rhys Whyment with Whyment putting in consistent faster lap times to take the lead and win on 16 laps leaving the battle for 2nd and 3rd to Connor and Jack with Connor having the advantage until a final last push from Jack saw him take 2nd place by 17 seconds another great battle for the neutral.
I'd just like to thank every single rider and parent for supporting the championship and with rounds 2 & 3 on the 7th & 8th of May at Drumclog, everyone is all set for a mega weekend ahead.
Results
Superteens
| | | | |
| --- | --- | --- | --- |
| POS | RIDER | LAPS | TOTAL TIME |
| 1 | SAM BOYD | 18 | 2:07:39 |
| 2 | BOBBY MOYER | 18 | 2:09:27 |
| 3 | JOSH LISTER | 15 | 2:06:41 |
125cc/150cc
| | | | |
| --- | --- | --- | --- |
| POS | RIDER | LAPS | TOTAL TIME |
| 1 | RILEY BOYD | 16 | 2:04:05 |
| 2 | LUCAS TREVERS | 16 | 2:04:49 |
| 3 | ROBBIE DAVIDSON | 15 | 2:01:24 |
| 3 | JACK ASBRIDGE | 15 | 2:01:55 |
| 4 | FINN CAVANAGH | 14 | 2:00:13 |
| 5 | HARLEY MUDIE | 14 | 2:05:28 |
| 6 | COOPER SMITH | 11 | 2:01:45 |
Big Wheel 85's
| | | | |
| --- | --- | --- | --- |
| POS | RIDER | LAPS | TOTAL TIME |
| 1 | RHYS WHYMENT | 16 | 2:06:43 |
| 2 | JACK LEONARD | 15 | 2:00:17 |
| 3 | CONNOR WATSON | 15 | 2:00:34 |
| 4 | ALFIE MATHEWSON NELSON | 14 | 2:00:52 |
| 5 | CAYDEN HIGGINS | 14 | 2:04:52 |
| 6 | ZACH STAINTHORPE | 14 | 2:05:41 |
| 7 | JOE HENNING | 14 | 2:08:40 |
| 8 | JACK HOUGHTON | 13 | 2:02:25 |
| 9 | JAMIE MUIR | 13 | 2:04:46 |
| 10 | FINLAY BROCK | 13 | 2:06:40 |
| 11 | JAY CODLING | 13 | 2:08:04 |
| 12 | JOE DRYSDALE | 12 | 2:03:13 |
| 13 | SAM MORLEY | 11 | 2:01:36 |
| 14 | OWEN NICHOLSON | 10 | 2:01:34 |
| 15 | JAXON LEIGH | 10 | 2:01:52 |
| 16 | Leon Smith | 10 | 2:04:33 |
Small Wheel 85's
| | | | |
| --- | --- | --- | --- |
| POS | RIDER | LAPS | TOTAL TIME |
| 1 | JACK WALL | 11 | 1:33:36 |
| 2 | JACOB WILSON | 11 | 1:35:14 |
| 3 | OLLIE CARNE | 11 | 1:37:37 |
| 4 | WILLIAM ATKINSON | 10 | 1:30:53 |
| 5 | LOGAN MCARDLE | 10 | 1:31:55 |
| 6 | JOSHUA HUTCHINSON | 10 | 1:32:01 |
| 7 | BILLY CHAMBERS | 10 | 1:32:49 |
| 8 | BLAKE HARRIMAN | 9 | 1:31:31 |
| 9 | DECLAN COOK | 9 | 1:33:24 |
| 10 | SKYE JONES | 9 | 1:35:16 |
| 11 | BOBBY KIRKUP | 9 | 1:37:11 |
| 12 | MASON MACARDLE | 8 | 1:37:07 |
| 13 | ALFIE MOORE | 8 | 1:39:16 |
| 14 | THEO NICHOLSON | 8 | 1:43:14 |
| 15 | DALTON DALTON | 5 | 1:31:23 |
65's
| | | | |
| --- | --- | --- | --- |
| POS | RIDER | LAPS | TOTAL TIME |
| 1 | DEXTER HIND | 11 | 1:37:25 |
| 2 | ANNABELLE BOLT | 10 | 1:32:52 |
| 3 | TOMMY HUTCHINSON | 9 | 1:30:38 |
| 4 | ISAAC ARNOLD | 9 | 1:31:27 |
| 5 | LEON WRIGHT | 9 | 1:36:52 |
| 6 | JACK WADE | 9 | 1:39:50 |
| 7 | ELLIOT TENNANT | 9 | 1:40:46 |
| 8 | TRAVIS MANNING | 8 | 1:34:35 |
| 9 | JOE MACLEOD | 8 | 1:41:50 |
| 10 | JAKE HANNON | 7 | 1:30:06 |
| 11 | DEXTER FORSYTHE | 7 | 1:35:52 |
| 12 | JOSHUA THORP | 7 | 1:39:24 |
| 13 | GEORGIA-LILY GUY | 7 | 1:39:27 |
| 14 | ASTON SMITH | 5 | 1:40:49 |
| 15 | BRADLEY HARRIMAN | 11 | 1:34:44 |
Auto's
| | | | |
| --- | --- | --- | --- |
| POSITION | RIDER | TOTAL LAPS | TOTAL TIME |
| 1 | AARON WARK | 22 | 1:33:52 |
| 2 | HARRIS WALKER | 20 | 1:30:33 |
| 3 | JOEY JONES | 20 | 1:31:06 |
| 4 | JAMES GUY | 20 | 1:32:40 |
| 5 | ETHAN FINDLAY | 19 | 1:32:37 |
| 6 | CURTIS THEAKER | 17 | 1:32:20 |
| 7 | THOMAS WADE | 16 | 1:31:38 |
| 8 | ARCHIE COAKER | 14 | 1:31:18 |
| 9 | TEDDY FAIR | 14 | 1:33:29 |
| 10 | HARRISON CAVANAGH | 14 | 1:35:08 |
Report by Gary Nicholson – Pictures by Alex Scott